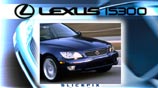 Client: Lexus

Project: Lexus IS-300 CD-ROM

Producer: Pegasus Productions

Overview:
Lexus needed a specialized cd-rom dedicated to their IS 300 model in order to distribute over a million copies to their customers. Recently pictured on Apple's
Why QuickTime?
page.











Description:
Here's some of the comments we've received:
"The (Lexus) alpha is looking very cool...I like what you've done with the place..."
- Cliff Gordon, Pegasus Productions
* All content presented here is owned by the copyright holder and is used with permission.